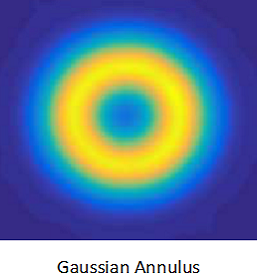 Description
PowerPhotonic's Psuedo Random Intensity Mapping Element (PRIME) flat-top diffusers use a unique freeform direct-write process to fabricate a highly non-uniform surface in fused silica.
These quasi-random optics are designed to impart a well-defined and tightly controlled divergence angle which can range from fractions of a degree up to 10 degrees (FWHM) with potential transmission efficiencies in excess of 99%.
Customised diffusers can be used to create highly arbitrary intensity distributions specific to an application.  Examples of intensity distributions include tridents, ramps and skewed Gaussians whilst spatial distributions can include triangles, arcs and more.
Key Features
All fused silica optics
Customizable divergence (<1° to 10°)
Customizable intensity and spatial distributions
Highly variable edge steepness
Very low divergences achievable
Suitable for multi-mode lasers (M2 >5)
Benefits
Highest system efficiency possible >98%
Dramatic increase in beam uniformity
High power handling, >20kW CW
High laser damage threshold, >100J/cm2
Good through-focus performance
Insensitive to input beam properties
Target Applications
Materials processing: high power

Laser cutting
Laser peening and slow cool annealing
Active seam track welding and brazing
Metal polishing

Diode array and pump beam homogenization
Ultrafast laser pulse homogenization