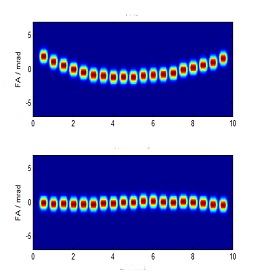 Description
PowerPhotonic provides a range of smile correctors for laser diode bar and stack applications.  These innovative products remove the effects of "smile" error on the collimated beam.  Standard products have parabolic smile correction, but can be specified with custom pointing error correction for each emitter.
The "smile" effect, caused by CTE mismatch during solder bonding, prevents the fast axis collimation (FAC) lens being correctly positioned for all points along the bar, resulting in beams with variable pointing direction.  This increases overall fast-axis divergence, and can have a severely detrimental impact on VBG locking efficiency and locking range.
The smile correction value is marked on the optic for easy identification for select on test in production.
The PowerPhotonic Smile Correctors remove the impact of these degradations resulting in a dramatic improvement in laser performance.
Product Spec Sheet
No product sheet available – e-mail enquiries to sales@powerphotonic.com
Key Features
Single optic that can reduce smile to a level that no longer affects system performance
Monolithic design
Fixed or custom variants possible
Transmission 99%
UV-fused silica
Benefits
Reduces residual smile to less than 0.2mrad r.m.s.
Decreases fast-axis divergence
Increases fibre-coupled power
Increases VBG locking efficiency and locking range
Small number of select-on-test variants can effectively remove a wide range of smile errors
Increases assembly yield in wavelength-locked and high brightness products
Target Applications
Laser diode bars and laser diode stacks
Solid-state laser pumping
Wavelength-locked diode lasers
Fiber direct diode