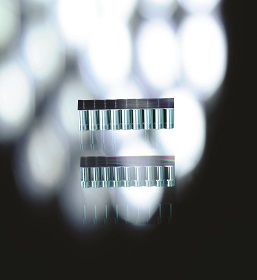 Description
PowerPhotonic's range of slow axis collimators (SAC) are used to reduce the slow axis divergence of diode lasers. They consist of a monolithic array of cylindrical lenses to simplify system alignment, and are available in a range of standard focal lengths and pitch combinations.
PowerPhotonic's SACs are manufactured using the company's patent pending laser micro-machining process, which provides unparalleled performance and flexibility.  The optical surface is ultra-smooth, resulting in very low scatter and crosstalk.
As well as offering compatibility with many different laser bars and stacks, using our unique laser micro-machining process means that additional functionality can easily be added to the SAC at minimal cost as part of our customization program.
Customization options can include correction for bar smile or custom pitch, focal length and conic constant.
Product Spec Sheet
No product sheet available – e-mail enquiries to sales@powerphotonic.com
Key Features
UV-fused silica
Monolithic design
Efficient collimation
Transmission >99%
Long term mechanical stability
Customization options
Benefits
Compatible with off-the-shelf FACs
Suitable for laser diode stack assembly
Flexible part size
System performance optimization with additional customization options
Low scatter
Target Applications
High power laser diode bars and stacks
Solid-state laser pumping
Wavelength-locked systems
Fiber-coupled direct diode
Free-space direct diode