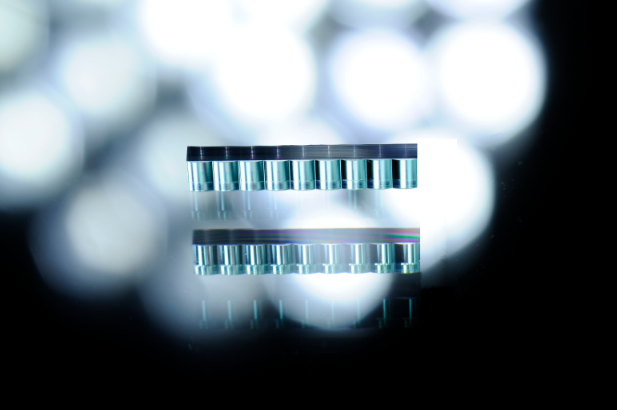 Description
PowerPhotonic's family of Freeform Field Mapper SACs provide both slow axis collimation and fast axis beam shaping in a single optical element, dramatically improving efficiency, shortening the optical train and reducing cost in diode laser pump or other similar applications.
These optics consist of a monolithic array of lens-like elements. In the slow axis, an array of cylindrical elements reduce divergence, whilst single mode beam shaping elements transform the fast axis into an array of flat top spots.
Made from UV-fused silica, the Field Mapper SACs leverage PowerPhotonic's unique freeform fabrication technology and in-house expertise in optical design, modelling and fully freeform fabrication technology enabling the creation completely custom Field Mapper SAC solutions for use in a wide range of diode lasers and applications.
Product Spec Sheet
No product sheet available – e-mail enquiries to sales@powerphotonic.com
Key Features
UV-fused silica
Monolithic design
Efficient collimation
Transmission >99%
Long term mechanical stability
Flexible size and range of pitch combinations
Customization options
Benefits
System performance optimization
Increased diode pump efficiency
Shortens the optical train
Simplifies system alignment
Low scatter and cross talk
Compatible with off-the-shelf FACs
Target Applications
High power laser diode bars and stacks
Solid-state laser pumping
Fiber-coupled direct diode
Free-space direct diode