Diode Correction PhasePlates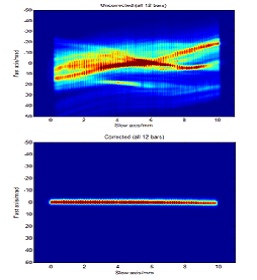 Description
PowerPhotonic High Power Diode Correction Phaseplates null the laser beam wavefront error, restoring the intrinsic ex-facet brightness of the laser beam.  These products provide near-diffraction limited performance in fast-axis collimated beams by decreasing beam divergence, improving beam homogeneity and  coupled power, and increasing laser beam brightness by between 2 and 10 times.
Our Diode Correction Phaseplates compensate for smile errors due to emitter pointing variation, defocus and higher-order wavefront errors, and align all bars to a common boresight direction, resulting in a high-brightness beam with consistent pointing and divergence.  Far field image data is processed remotely to create individually serialized optics that perfectly match the bar or stack.
The resulting collimation performance gives exceptionally well-controlled feedback in grating-stabilized applications resulting in high locking efficiency, increased locking range and predictable performance build after build.
Product Spec Sheet
No product sheet available – e-mail enquiries to sales@powerphotonic.com
Key Features
Nulls laser beam wavefront error, restores intrinsic ex-facet brightness of the laser beam
Provides near-diffraction limited performance in fast-axis collimated beams
Mass-customization allows optimized part to be fabricated for each individual bar and stack
Automated design based on either wavefront or beam profile data
Each part marked with readable, traceable ID code
Benefits
Improve brightness of diode bards and stacks by between 2 and 10 times
Decreases beam divergence, improves beam homogeneity and coupling power
Optimizes feedback in grating stabilized applications, maximizing locking efficiency and range
Reduces stack-to-stack performance variation
Target Applications
High brightness diode laser bars and stacks
Fiber-couple direct-diode
Fiber laser pump
Wavelength-locked applications
Line generators