Axicon Array Homogenizers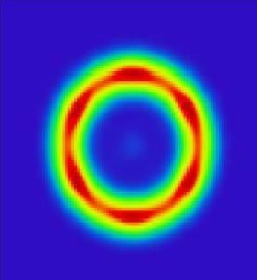 Description
PowerPhotonic's axicon array homogenizing beamshapers use a unique freeform direct-write process to fabricate customized axicon array surfaces in fused silica.
These axicon array homogenizers are carefully designed to produce ring shaped spots at the focus of a lens; simultaneously maximizing performance and efficiency.  The axicons are laid out in a hexagonal formation in order to maximize the uniformity of the intensity distribution around the ring.
Axicon array homogenizers are highly insensitive to input intensity distribution and positioning within the beam, unlike traditional axicon elements.  PowerPhotonic's fabrication technology also offers the ability to change the thickness of the ring, as well as the extinction ratio in the ring center, by precisely altering the characteristics of the axicons within the array.
Product Spec Sheet
No product sheet available – e-mail enquiries to sales@powerphotonic.com
Key Features
All fused silica optics
Customizable ring width
Customizable ring thickness
Customizable central extinction
Low divergences achievable
Suitable for multi-mode lasers (M2 >10)
Benefits
Highest system efficiency possible >98%
Dramatic increase in beam uniformity
High power handling, >20kW CW
High laser damage threshold, >100J/cm2
No focal plane shift
Good through-focus performance
Insensitive to input beam properties
Target Applications
Materials processing: high power

Regime shift (thin <-> thick) laser cutting
PCB laser drilling
Solar cell manufacturing

Photonic crystal pumping